Mrs. Cindy Mitchell, Howe BPA Adviser, presented State and National BPA Torch Awards to Howe BPA Members, Matthew Mitchell and Brayden Oglesby at the Howe High School Virtual Awards and Scholarship Ceremony on May 7, 2020. Matthew and Brayden, both Juniors at Howe High School, along with Mrs. Mitchell, were scheduled to be at the BPA National Leadership Conference this week in National Harbor, Maryland. Unfortunately, due to COVID-19 travel restrictions and precautions the Conference was cancelled.
The Torch Awards Program is designed to promote professionalism and leadership at the local, regional, state, and national levels. Students begin by documenting all of their BPA (and some non-BPA) activities in an online "resume."
There are seven categories to Torch which are Leadership, Service, Cooperation, Knowledge, Friendship, Love-Hope-Faith, and Patriotism. Both Matthew and Brayden were recognized during the State BPA Leadership Conference in March for receiving the Statesman Torch award, which required 50 points in each category that equaled 350 in all.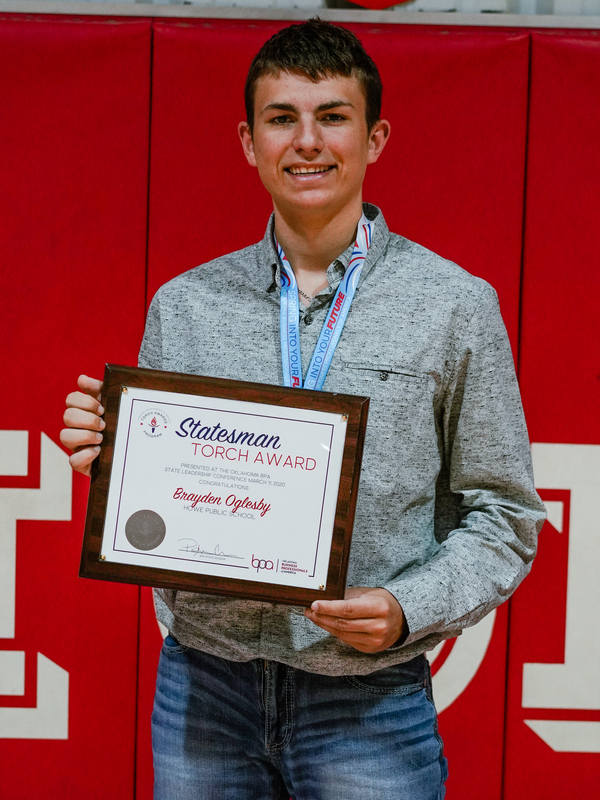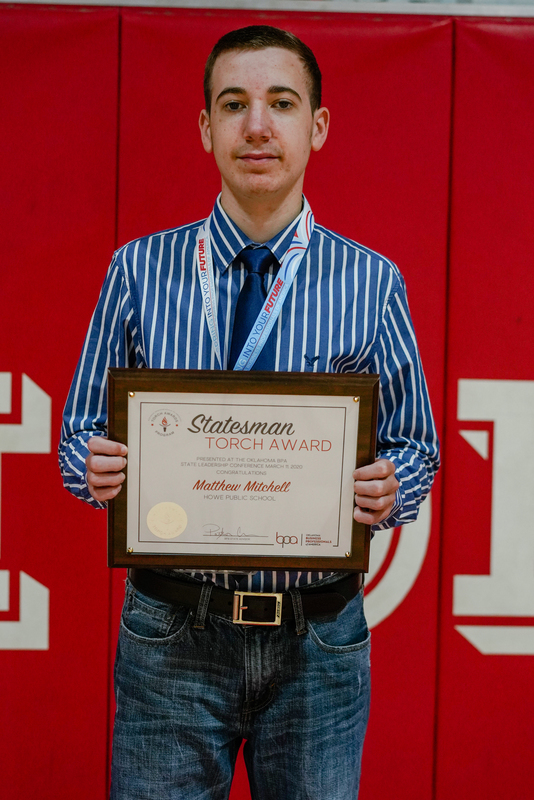 Matthew and Brayden were unable to attend the Oklahoma State Leadership Conference (it fell during basketball playoffs in mid-March), but both students received special recognition during the Conference and receive a certificate as well as a pin at the Statesman level.
Additionally, Matthew and Brayden also received The Ambassador award, which requires 70 points in every category creating a total of 490 points and would have received national-level recognition during the National Leadership Conference scheduled for this week. In lieu of the national presentation, Matthew and Brayden were recognized and received a certificate and pin, along with an Ambassador award trophy presented by Mrs. Mitchell in the Howe Awards Ceremony. Congratulations Matthew and Brayden! For more information about the Torch Awards Programs visit: https://bpa.org/torch-awards/
(Video Clip from Awards Ceremony)