The Senior Gear Up trip updated arrival time back to campus is 10:30 pm. #HPSLions
Howe Lions baseball will play at 100 pm tomorrow at Hunt's Park in Fort Smith, AR

Due to the weather and road conditions, we will be running our bus routes at 2:00 today. For those students that are transported to school by family members, please feel free to pick them up at that time as well. If you are not able to get here at that time there will be school personnel on campus to keep them until our usual dismissal time.
Howe Lions baseball in the Alma Wood Bat tournament scheduled for today has been cancelled due to the inclement weather. The plan is to resume play on Saturday. Lions vs. Paris, AR at Hunt's Park (Fort Smith) @ 115 PM. #HHSLions
REMINDER: The Junior GEAR UP trip to the Oklahoma Aquarium in Jenks is scheduled for Monday, March 27. The bus will depart the Howe campus at 8 am an d will return at approximately 4 pm. #HPSLions

Howe FFA Meat Evaluation team competing today at the Eastern Oklahoma State College Interscholastic and CDE contest. Lindsey Reppen, Abby Hale, and Kennedy Dean placings to come.

Congratulations to Gracie Crabtree and Rhilynn Young Representing Howe at the SE Area Speech contest!!! Rhilynn placing 6th and Gracie placing 1st and qualifying for state!!! Gracie also won her category at County!!!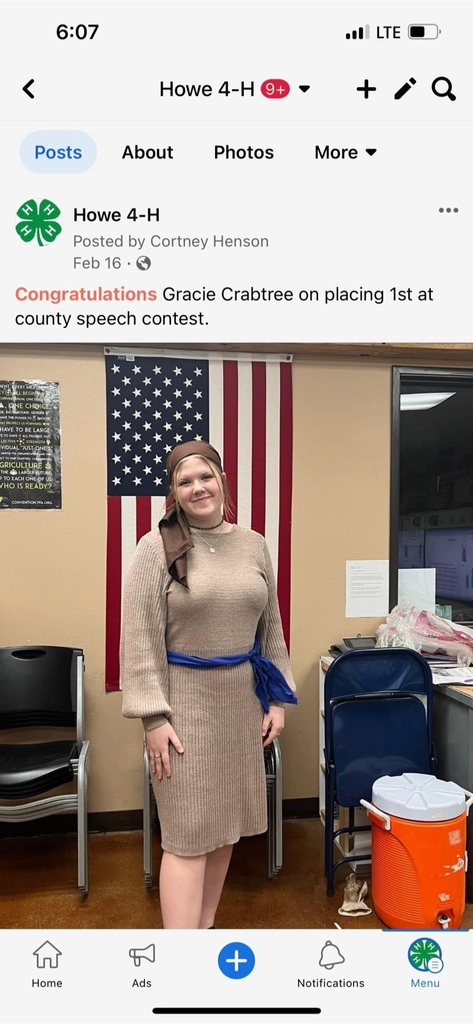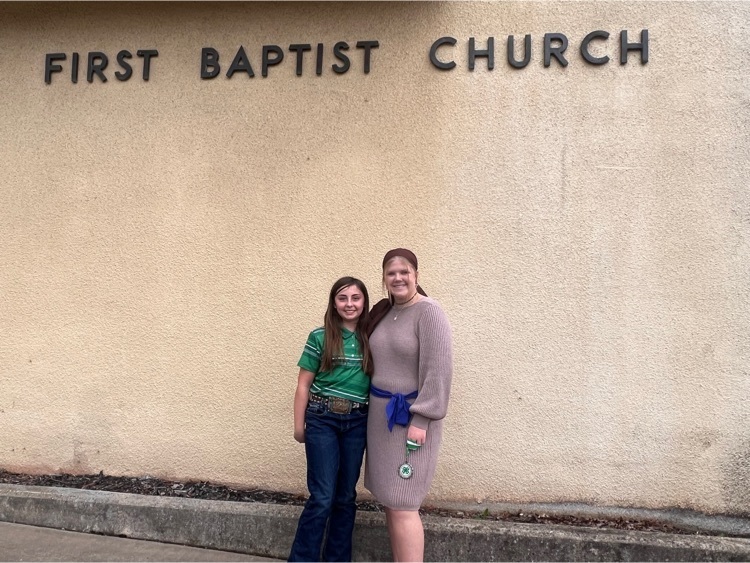 The Senior GEAR UP trip to the Dallas Holocaust Museum is scheduled for Friday, March 24. "The Dallas Holocaust and Human Rights Museum is dedicated to teaching the history of the Holocaust and advancing human rights to combat prejudice, hatred, and indifference." To learn more, visit
https://www.dhhrm.org
. The group will depart the Howe campus at 7:45 am and stop for lunch at "Slice of Pie" in Commerce, TX. The group will spend the afternoon at the Museum, with a planned stop on the way home to Buc-ee's in Royce City, TX. The group has an estimated return to the Howe Campus time of 9 pm. For additional information, contact Rachel Brown. #HPSLions
The Howe HS eSports Valorant Team is competing today in a HSEL match at 3:15 pm! Good Luck! You can watch live at bit.ly/howesports #HPSLions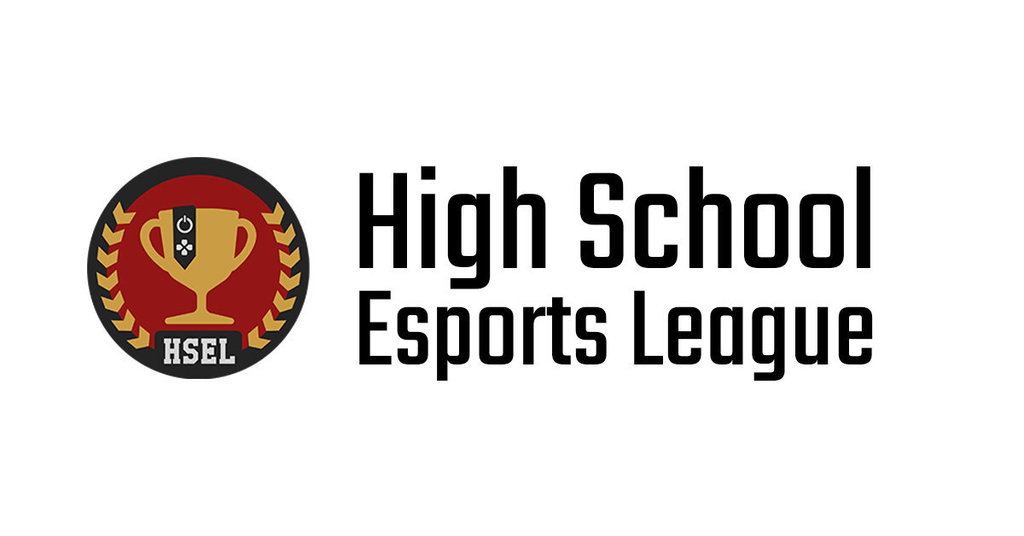 We want to congratulate Howe Senior Fernando Amezcua for signing with Murray State College today to be part of their Rodeo Team! We are so proud of you!! Fernando 's Rodeo Team Scholarship is covering partial tuition & room/board valued at $10,000 yearly. Representing MSC is Head Coach, Todd Smith. #HPSLions
https://www.facebook.com/MSC-Rodeo-Team-Murray-State-College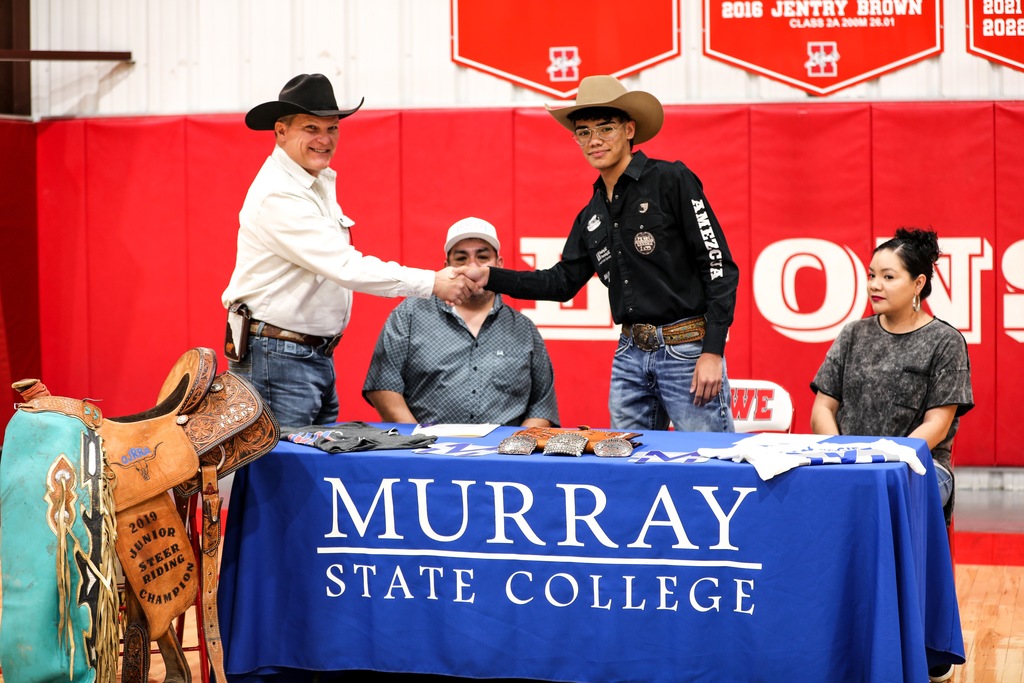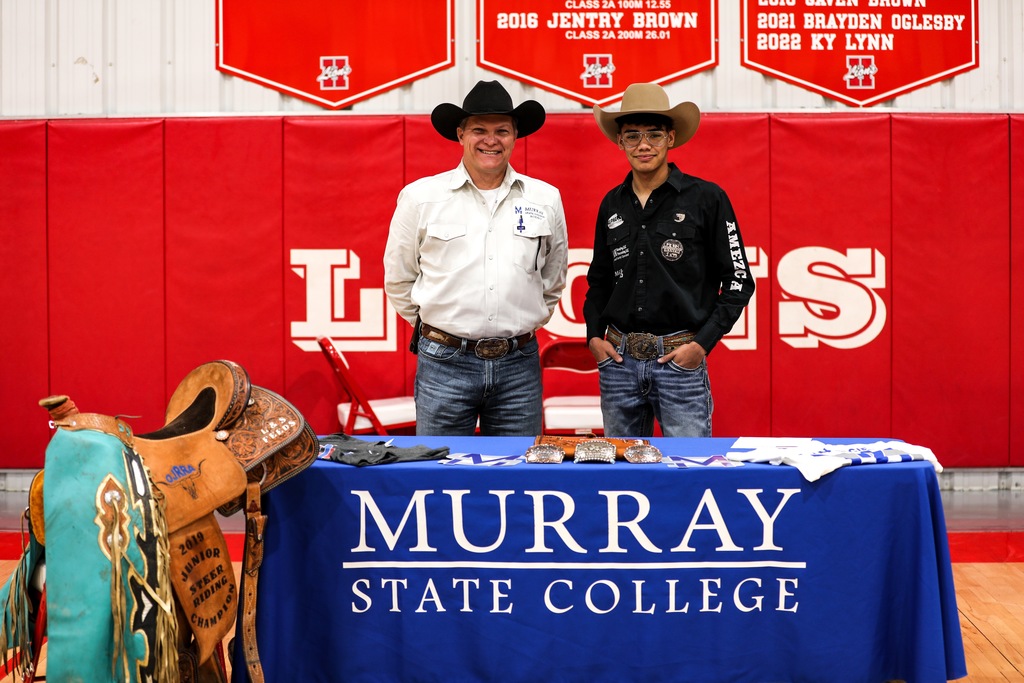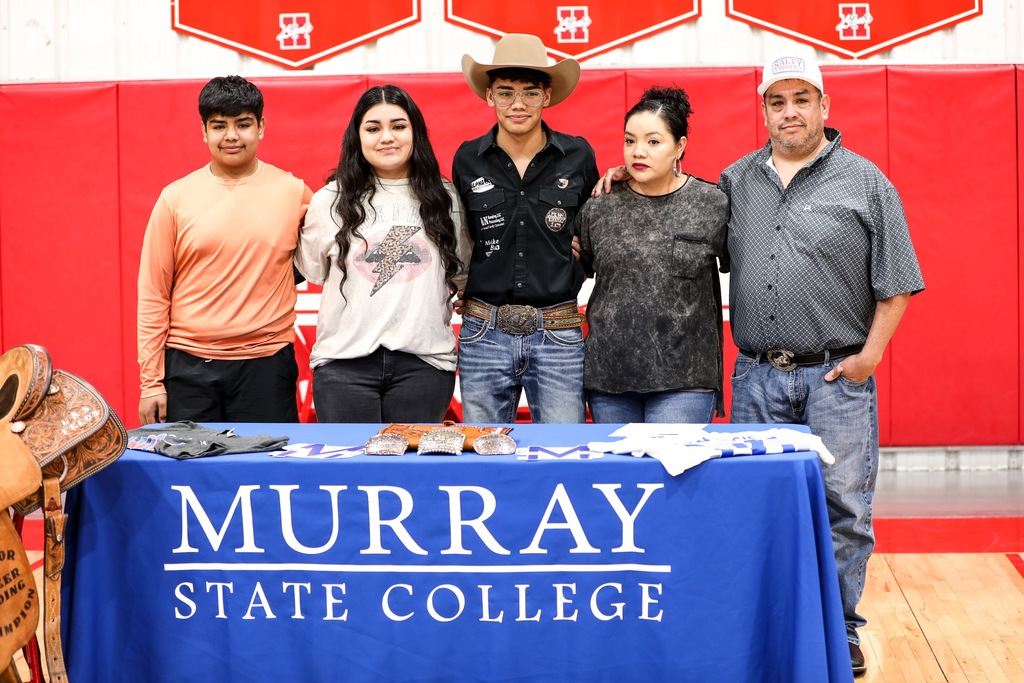 State Testing Information: Juniors will participate in state-mandated testing on April 4th (ACT), 5th (US History), & 6th (Science). These tests are required for graduation. The Warehouse bus will leave campus at 8:am sharp to transport students. If students drive, they may drive directly to the Warehouse on testing days. Student testers will be permitted to eat breakfast at 7:30 in the cafeteria on test days. It is important that they arrive on time. All cellular and smart devices will be collected when students enter the Warehouse. They will not be permitted access to these devices until testing is completed. The elementary and middle school grade-level testing window is scheduled for April 17 - May 2. Helping Your Student Prepare 
There are a number of ways that you can support your student's learning habits on a daily basis that will help him or her be more prepared when it is time to be tested. 
 Here are some ideas for your student to think about before taking a test. * Make sure that your student has taken the practice tests offered so that they are familiar with the platforms and tools available. * Make sure your student gets plenty of rest and has a well-balanced diet. * Reassure your student that the test is just one opportunity to show what he or she knows. Classwork, projects, and other tests also show how much a student has learned throughout the year. Please take time to review the grade level testing guides for parents and students below: 11th grade :
https://bit.ly/howe11th
8th grade:
https://bit.ly/howe8th
7th grade:
https://bit.ly/howe7th
6th grade:
https://bit.ly/howe6th
5th grade:
https://bit.ly/howe5th
4th grade:
https://bit.ly/howe4th
3rd grade:
https://bit.ly/howe3rd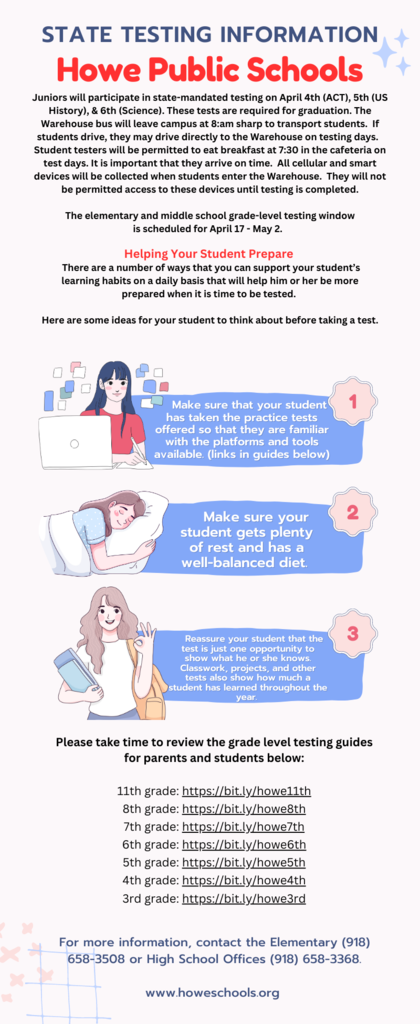 Lion Baseball @ Alma Wood Bat Tournament. Lions play Thursday 3:45 PM vs Alma. Friday's games will be played at Hunt's Park in Fort Smith. Game times are dependent on the outcomes of Thursday's games? #HHSLions
Due to the possibility of continuing bad weather the Panama JH baseball tournament has been cancelled for the remainder of this week. #HHSLions
Congratulations Lady Lions softball. The Lady Lions defeated Buffalo Valley 19-11. #HHSLions
Congratulations Howe Lions baseball. The Lions picked up two wins yesterday defeating Haworth 4-1 and Cameron 10-2. #HHSLions
This is the Howe High School March lunch menu from the 27th through the 31st.
Passing along this info to our Howe Lion family: The Monroe FBC clothing closet is open this Saturday, March 25th from 11 am - 1 pm. Located beside the church at the parsonage. Large variety of clothing for FREE!
Howe HS Letter jackets are not available in the administration office for those students that have purchased them. #HHSLions
The JH baseball games scheduled today in the Panama Tournament have been cancelled. Updated brackets will be provided as soon as available. #HHSLions
Game time for the SP softball games at Buffalo Valley today have changed to the following. Howe vs. Coalgate (5:30) and Howe vs. Buffalo Valley (8:00). #HHSLions